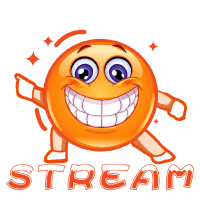 Steam Emotes
Version: V1.0.0 Developer: Live3D Team
The live streaming experience is all about viewer interaction. Emotes make that experience more fun for both the streamer and the viewer by encouraging others to chat. Viewers can spam emotes when something incredible, shocking, hilarious, or otherwise indescribable happens.

Stream Element Preview
Stream Element Desperation
What are Steam Emotes?
Whenever viewers send emotes in the chat (global emotes, Custom Emotes, and more.), they will display animated emotes on the screen in real time. It's a fun way to encourage viewers to engage in chat, helping to make the livestream more interactive and fun.
How to add Steam Emotes to your live stream?
Use Steam Emotes in your studio in a few easy steps,
· Step 1: Click "GET" to create the stream emote element;
· Step 2: Customize steam emotes settings, including styles, movement methods, etc.;
· Step 3: Fill in the channel name of the live broadcast platform;
· Step 4: Copy the source URL and add a browser source in the streaming tool, then paste the link;
· Step 5: Have fun!
Stream Emotes Settings
Emote Wall comes with some adjustable settings, including:
[General settings]
· edge collision;
· Ignore duplicates, duplicate emoticons in chat messages will be ignored;
· Emoji zoom, control the display size of emoji images;
· Emoticon duration: control how long the emoticon will be displayed on the screen;
[Animation method]
· Random, fade in random position, shake randomly, then fade out;
· Ejection, ejection from random positions;
· Balloons appear at random positions, grow from small to large, then rise, and the top floats or rolls after being blocked;
Please let us know if you have any questions or comments. You can also join the Live3D discord to discuss the live broadcast experience with more vtubers.
About Steam Emotes
Live3D is committed to increasing the audience of VTubers, enhancing the interaction with the audience, and improving the profitability of vtubers. Steam Emotes was created with this mission in mind.
Live3D is also actively expanding other interesting tools, looking forward to your try.
Update Logs
· Step 1: Create a steam emote tool;
· Step 2: Customize steam emotes settings, including styles, movement methods, etc.;