OBS vs StreamLabs OBS,Which is best?
OBS Studio and Streamlabs OBS, do you know it? If you have live broadcast it, then you certainly know it again, because they are the most popular choices for VTuber currently worldwide.
If you are experimenting with Twitch or Youtuber streaming, you are not familiar with streaming software tools or are considering switching, how do you decide which one is best for you? In this article, we will conduct an in-depth comparative analysis of OBS and StreamLabs OBS to help you understand the main functions and characteristics of the two so that you can make the best decision.
Learn in advance
If you want to be a live streaming host, then you must rely on large social platforms, such as Twitch, YouTube, Facebook, and this is just one of the important factors.
If you want to stream live media, then push streaming software must be used. As far as I know, the current global live streaming hosts use OBS and StreamLabs OBS for live broadcasting. In fact, the others are also secondary developed based on OBS. This article will mainly introduce these two popular push streaming software. Although these two applications are similar, they also have their own advantages and disadvantages. We will help you decide which one is more suitable for you.
The right broadcast soft has three main characteristics: compatibility, performance and pricing. Streamlabs OBS and OBS Studio are both free to use. You can install these applications and start live broadcasting immediately without paying a penny.
OBS Studio (free and open source software)
If you don't know anything about live broadcasting, but you may have heard of OBS Studio, an open source free broadcasting software. Its performance is second to none in almost all software, and it is also the pioneer of many streaming media. Now many streaming media software is also based on OBS. Second development, therefore, it is not surprising that a large part of the code at the bottom of Streamlabs OBS and OBS Studio is the same, but the interface has been adjusted.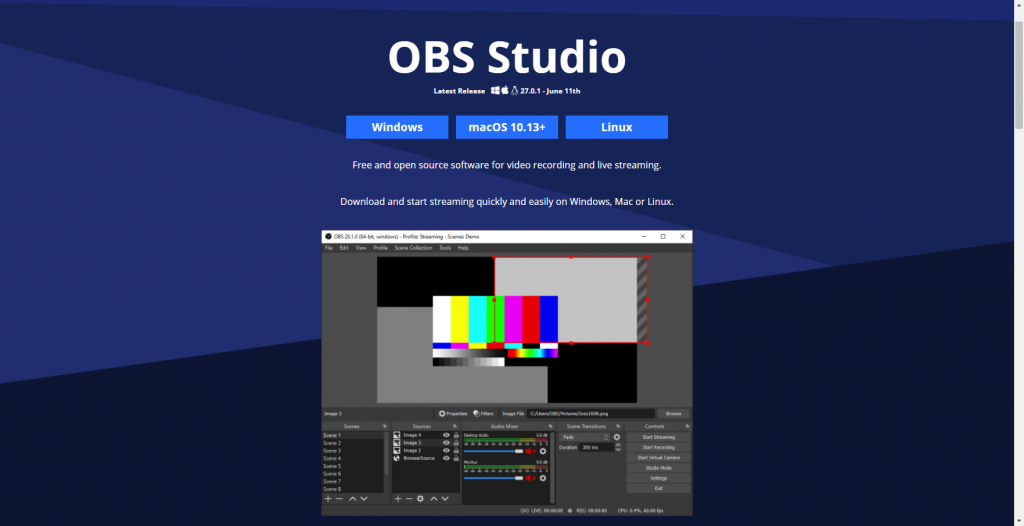 What are the characteristics of OBS Studio that we need to know? Next, I will comprehensively divide his advantages and disadvantages below to facilitate everyone to make a reasonable choice.
1. Code free and open source
Open Broadcaster Software was officially released in 2012. It is open source, which means developers can create customizable plug-ins and great effects. Because anyone can view the code at any time, it also means that errors and failures will be solved quickly. And you can make a live broadcast software based on it.
2. The operation interface can be customized
The OBS Studio interface is completely customizable, from screen position to window size. Just drag and drop each element of the workspace. In addition, various settings allow you to configure the program to meet your specifications, and you can make a different software based on him. Come out.
3. Low CPU usage
Often when live streaming, we have high memory requirements for our computers, which would otherwise cause a card. Live video, on the other hand, requires extremely high performance on computers. Another great advantage of OBS Studio is its low CPU usage - a particularly important feature of streaming. To get the smoothest possible data flow, you have two choices. You can either buy a powerful computer and win the PC Master Race, or use software that loads the least on your system.
4. Frequent updates
Because OBS Studio is the oldest of its kind, it receives the latest updates, features and patches first. For example, if Nvidia releases some new updates, such as a new GPU encoder or driver, OBS Studio will be one of the first broadcast software to get it.
5. Low plug-in compatibility
Although the OBS Studio interface is user-friendly and simple and straightforward, it also has a disadvantage. The software lacks multiple privileges, such as chat and customizable themes, also known as overlay. There are some ways to add these, but unfortunately the plug-ins are not included in the package.
6. Other issues
If you have audio playlists on your PC and you want to play them in a stream, you will not be able to link to these audio files as sources. OBS Studio does not run on Windows XP. Although it is now above Windows 10, it can still be used as a disadvantage.
Streamlabs Studio (Open Software)
It should be clear to everyone that Streamlabs Studio is a software developed by Twitch based on OBS for the second time, which can be understood as an upgraded version of OBS, but it mainly serves Twitch live. For many users who have not touched OBS, he is a very popular software.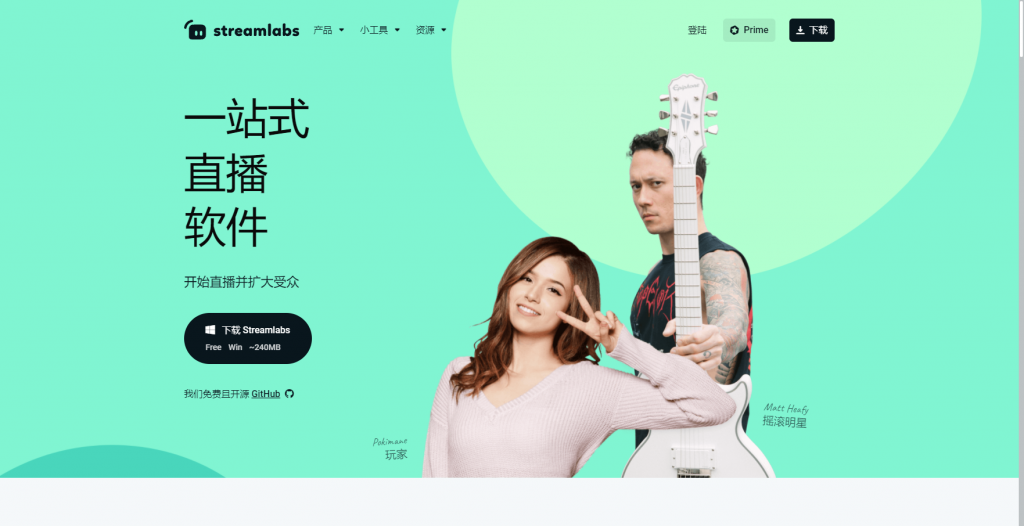 We can still make some analysis of him so that we can understand it rationally.
1. Simple to use
To set up Streamlabs OBS, you only need to perform the following five steps:
Download Programs > Install and Run Programs > Connect to Streaming Accounts > Run Optimizer > Add Your Stream Key
2. One-click chat
With the built-in chat feature, you do not need to open multiple browser tabs. SLOBS allows you to manage chats within the program. The chat itself has many benefits that can help you attract viewers, including chatbots with useful mod tools.
3. Free customization
SLOBS gives you a variety of free integrated themes and multiple overlay layers - from casual static themes to stunning animated visuals. You can choose one based on the game you play and your personal preferences.
4. Other features
The CPU usage rate is high, it is recommended that your computer run in more than 8G memory. Be sure to ensure that the PC computer is relatively stable and smooth.
Who to choose
For us, we don't need to help people make certain choices so that you are not very confused. Then please make a decision against the following situations.
If your computer has less memory and CPU performance is not very good, it is recommended that you use OBS; instead, you can choose StreamLabs Studo.
If you have enough time to learn and explore, then OBS is your best choice because it is relatively primitive and there is no more complicated interface for you to operate. Instead, you can choose StreamLabs Studio because its operation page is simple enough.
If you want to customize more effects and want to use it to chat with fans, Stramlabs OBS is your best choice. Because it has chat function.
For myself, I like to use OBS for streaming, because I am already familiar with its operation flow, and I have already passed the actual action, please refer to my "how to combine VTuber Maker and OBS for streaming" attempt.
Thinking
OBS and StramLabs Studio are both excellent broadcast software. It is worth noting that the latter was developed by the former. Obviously, the former will have an advantage in CPU usage, so you need to follow your own plan. Choose.