Stream Avatar: Millions of VTubers Are Steaming on Twitch
When you are playing games, use real-time avatars to increase the fun of the game. Steam avatar will capture your facial expressions and hand movements in real time to express your game emotions.
Hello, friends, have you been playing games live on Twitch? Or live on YouTube? Or live on Discord? If you still haven't chosen one of the most famous game streaming platforms, or you are still hesitating to think about it. So now you may have a good reason to join: a steam avatar that adds luster to your streaming media!
Yes… we are talking about the interesting steam avatar problem. It is because of it that you can make your entire game process full of fun. If this is your idea, then you should start to act.
What we are talking about is a steam avatar that can be tracked with real-time emoticons. It is not a static virtual character standing there. It can track your movements and make a steam avatar that reacts to many actions like you.
Maybe you will find this a little hard to believe and imagine? The answer is to use VTuber Maker. This is a virtual VTuber Software that can make your avatar move and have as rich expressions as you. No need for professional design, animation production skills, one-click operation.
The operation method is as follows:
First, you need to install VTuber Maker on your PC, you need to install it from steam.
A virtual character specially prepared for VTuber Maker (if not, you can also use the official free model).
VTuber Maker will use your microphone and camera to detect your facial expressions and head movements.
Finally, start to move the avatar and control the avatar to do interesting actions.
It only takes four steps to create your own steam avatar. Is the whole process very simple and looks very interesting? Act quickly, you will be very grateful for the decision you made this time.
Does the effect look good? The characters will move and follow your head movements, making your game more rich and interesting during live broadcast. Next, I will teach you how to do it.
The first step is to create your own Steam Avatar
All the fun starts with choosing an avatar for your game stream. Now, there is a free steam avatar for VTuber Maker puppet templates. And if you want to have your own steam avatar, then you can pay directly and cooperate with the official to design your own steam avatar.
Choose free cute girls images, they will make your live broadcast more cute.
Lina is a fashionable girl who likes to dye her hair blue and wears some weird clothes
Yona is a little girl who likes to be very cheerful and lively. She likes to wear red clothes and some strange decorations.
Rose is a very proud girl, likes to wear a horn on her head, and her personality is very open and full of power
I only chose three steam avatars in VTuber Maker as an example to illustrate, the official will also provide more virtual avatars for use, you can choose according to your own hobbies.
The second step is to set up the live room
After you choose your own steam avatar, the next thing you need to do is to set up your live room content before proceeding with streaming promotion. You need to do the following steps:
Install VTuber Editor on the PC. This is the beginning of the setup and the most critical step.
Create a new live room in VTuber Editor, and there are official templates for selection.
Select your own room in VTuber Maker and enter it into use (you need to adjust the position during this process and check the working status of the camera and Leap Motion).
Choose the steam avatar you think is good and use it.
Share your game live screen.
After completing these 5 steps, your streaming screen content has been basically completed, and the next step is to use OBS to push it out.
The third step is to set up OBS to push streaming to Twitch
OBS push streaming software, here I list the following software:
-OBS
-OBS Studio
-Steamlabs OBS
-Twitch Studio
The sharing window is captured by the push streaming software, and then the live content is presented to the audience. You can use VTuber Maker to write live content, and then use OBS software to push it out.
Open the OBS streaming tool and select the captured full-screen window:
New capture->Window capture->Input Name->Select VTuber Maker Window->ok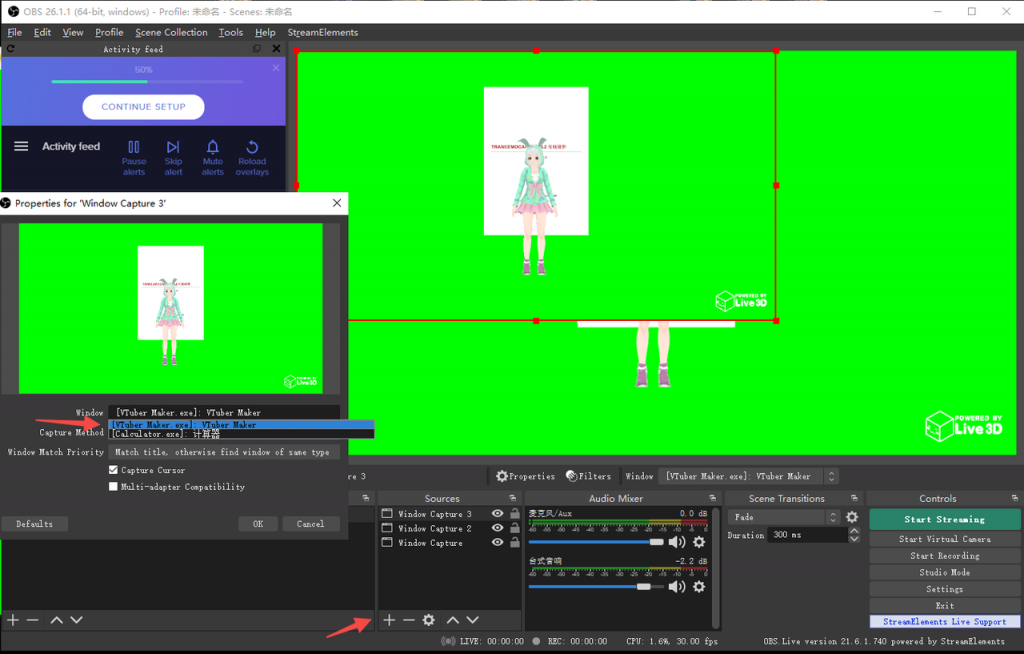 Finally, share it with your fans and friends on Twitch.