VTuber Maker - Menu
Introduction
This chapter mainly introduces the contents of the menu bar on the VTuber Maker software and its corresponding main functions.
What are the Features in Menu?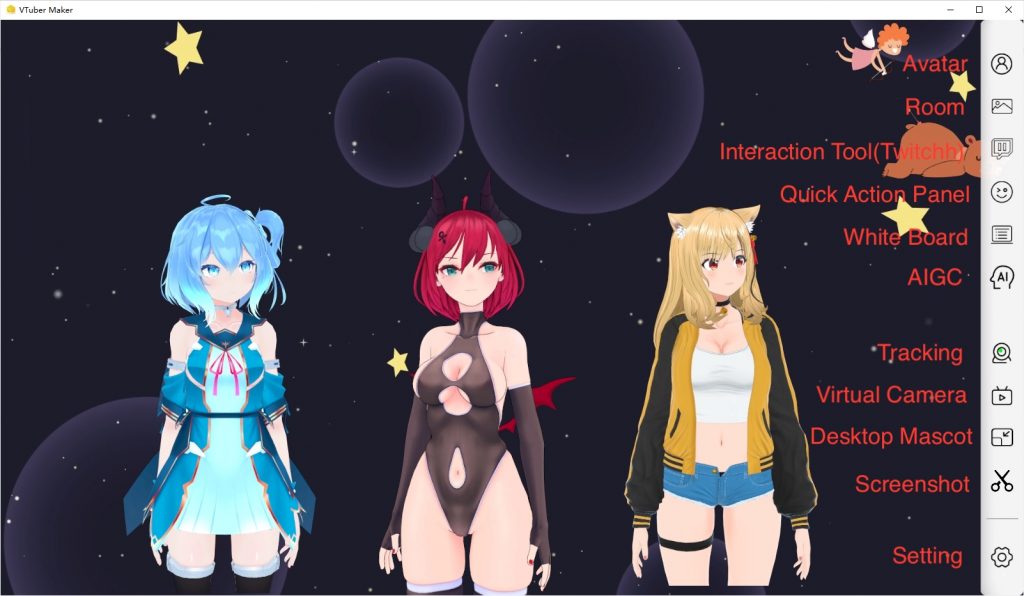 Avatar
Here you can quickly switch between various virtual avatars. We provide more than 40 high-quality VTuber avatars.
At the same time, you can quickly switch avatar effects, including display props, paint, interactive props (keyboard, handle, gun), and switch idle state.
It is also possible to present multiple avatars on the same stage by adding NPC.
Room
This is also called VTuber background room.
You can quickly change the background and overlay
You can also turn the background into green through the one-click green screen function to facilitate obs green screen capture and push streaming
You can also change to a solid color for obs transparent capture and streaming.
Interaction Tool (Twitch)
Here, you can find a variety of interactive effects, such as throwing gold coins, big heads, small heads, etc.
At the same time, you can also customize various special effects, including adding animations to avatars, modifying expressions, and adding sticker animations.
We also support twitch extension, allowing you to dynamically add various special effects to the extension panel and enjoy the benefits of bits. Come and experience it.
Quick Action Panel
Currently supports 6 quick actions and 6 quick poses . If you need to make your own anime pose, pose poster or cute anime pose reference, please visit VTuber Gallery : Anime Pose.
White Board
You can directly display the screen or file content in this software.
At present, the files mainly support videos, pictures, pdf, ppt, etc.
It supports screen sharing through window capture technology.
You can share conference content or live streaming content through it very well.
AIGC
We integrated the latest AI tools to create rich custom animation files
Tracking
At present, various tracking technologies, such as face capture tracking, hand tracking, etc., are used to control the avatar and bring avatar to life.
Currently, leap motion is also supported, as well as motion capture devices such as Xsens and Noitom.
Virtual Camera
A software driver that simulates a real camera and can quickly replace your camera, allowing virtual avatars to have video conversations
Desktop Mascot
Have the avatar appear on the desktop as a separate small window
Screenshot
A tool to take a quick screenshot in vtuber maker, which can be directly shared to social media.
Setting
Mainly various basic settings, such as several core settings, remove watermark, avatar image quality adjustment
About Us
We are a vtube studio, focusing on providing various vtube solutions, and you are welcome to contact us
---
contact us