Netflix's official vtuber is comming!
What is Netflix
Netflix is a subscription-based streaming service that allows our members to watch TV shows and movies without commercials on an internet-connected device. As you know,you can also download TV shows and movies to your iOS, Android, or Windows 10 device and watch without an internet connection.Netflix content varies by region and may change over time. You can watch from a wide variety of award-winning NetflixOriginals,TVshows,movies,documents,and more.The more you watch, the better Netflix gets at recommending TV shows and movies we think you'll enjoy.
As the same time ,you can watch Netflix through any internet-connected device that offers the Netflix app, including smart TVs, game consoles, streaming media players, set-top boxes, smartphones, and tablets. You can also watch Netflix on your computer using an internet browser. You can review the system requirements for web browser compatibility, and check our internet speed recommendations to achieve the best performance.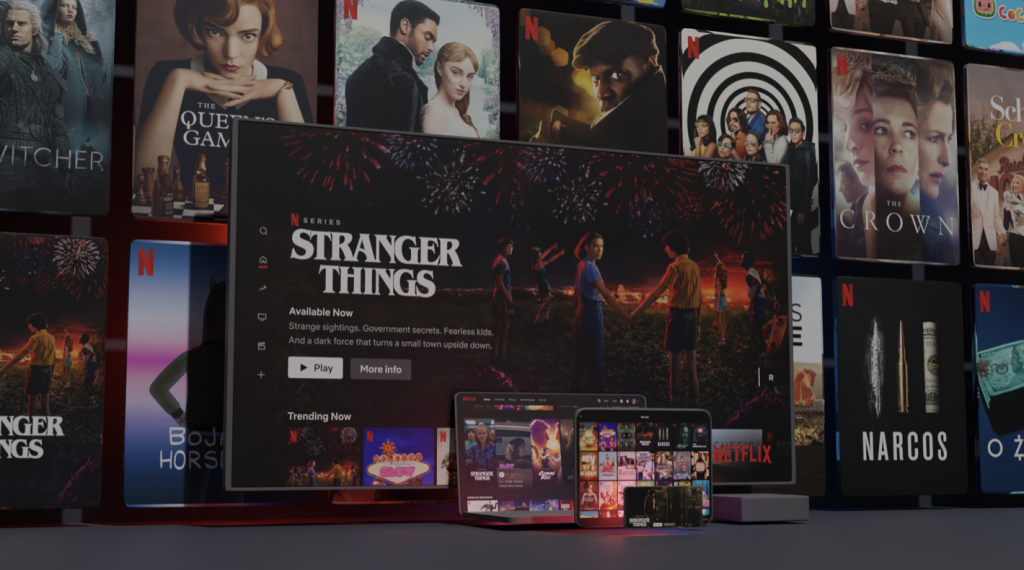 What is vtuber?

Vtubers, or "virtual YouTubers," are animated hosts who often vlog on YouTube or stream on Twitch. In general, these characters are operated by a single human, who will use motion capture software (and sometimes a motion-capture outfit) to transform themselves into a cartoony character on-screen. Some Vtubers have become hugely popular over the past year, including Projekt Melody and CodeMiko.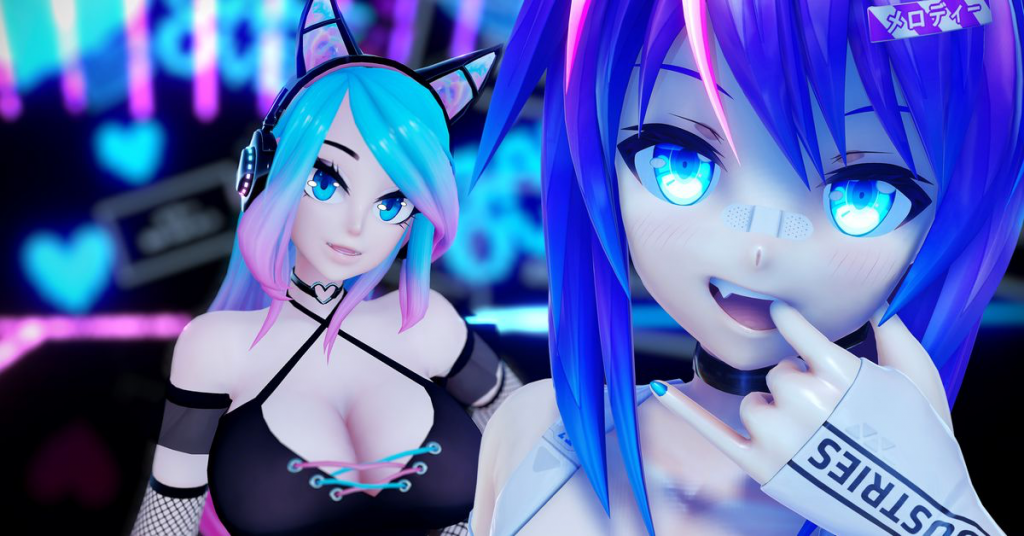 Netflix's official vtuber
Netflix has joined the Vtuber trend, unveiling a virtual streamer this week who will host a weekly show on the company's YouTube channel to promote its original anime series. The character is named N-ko Mei Kurono, and Netflix describes her as the company's "anime ambassador." She also happens to be a "sheep-human lifeform."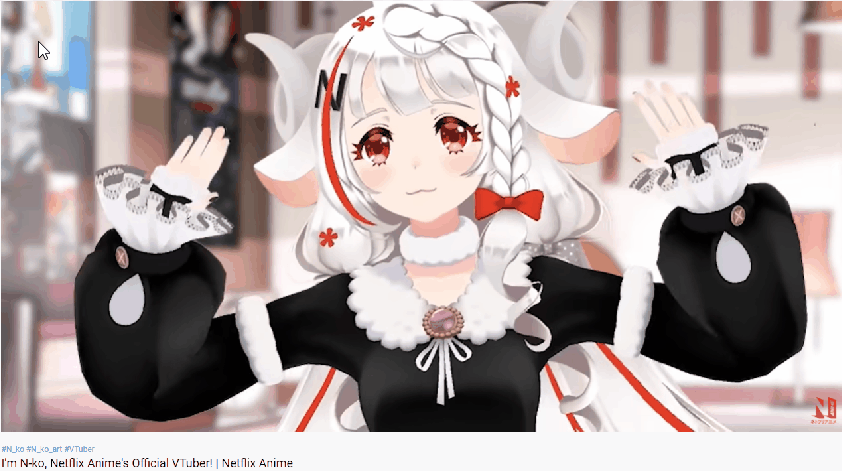 Netflix is using the trend as a way to promote its growing interest in anime. The company said recently that it plans to launch 40 anime series in 2021, following a year in which "the amount of Anime watched" on its service doubled in the US. Netflix is about to debut a new a new anime from Flying Lotus; a new Sailor Moon movie is coming to the service in June; and a Terminator anime is now in the works. N-ko, the Vtuber, is played by a Netflix employee who works on their anime lineup. Though her primary purpose is promoting Netflix series, she's also trying to fit in with the rest of the Vtuber community and become a figure viewers might want to watch for herself. "I love singing, dancing, and getting a massage," N-ko says, "but I don't like writing kanji or anything that contains elements of horror." She plans to upload videos highlighting new shows, collaborate with other Vtubers, and maybe sing songs and do video game commentary, too.
Netflix's inspiration for anchors across the network

Netflix's official vTuber is a testament to the potential of the ACG market and its ability to attract more people to become virtual anchors.According to the production .The level of the artist and the exquisiteness of the work, the price of a VTuber model ranges from US$500 to US$2500. Although it is expensive to build, the virtual model allows the anchor to avoid others' evaluation of his appearance, body shape, etc., but to focus on the content of the live broadcast, which can create a more harmonious network environment. While, many people are just small anchors who don't want to spend so much money to make models, and some people just try the function of virtual characters during the live broadcast. What should I do? VTuber Maker can solve these problems.
VTuber Maker is a Live streaming software dedicated to Live streaming, face capture, and on-stage interaction. It doesn't require many operations. You just download and install the software on Steam, and after registering successfully, you can start your own virtual Live streaming tour. Not only can you choose from a variety of characters and animals, but you can even modify your appearance, decorations, and movements. All you need is a computer with a camera, and VTuber Maker will help you bring home your virtual hosts.
All kinds of avatars
More than 20 characters, all with their names and personalities, are sure to have one you like. If not, you can make your image and upload it. Go to VTuber Maker to discover the hidden feature.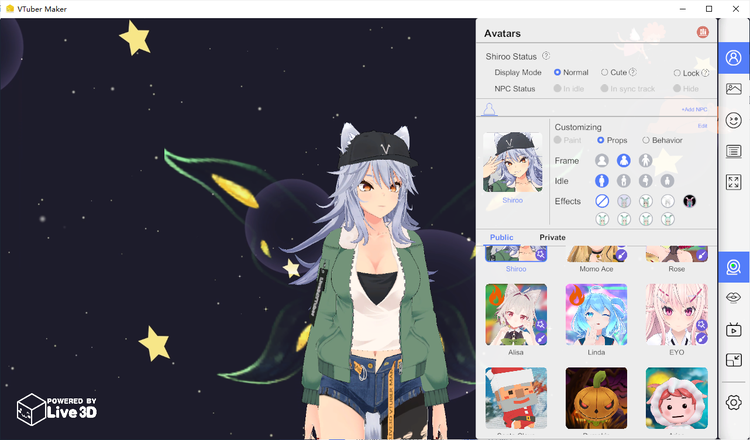 Vivid decoration and rich scenes

How do you make your virtual anchors stand out? Rich decor provides support for you. Whether it's a sticker, a wing, or a microphone, there are options for you, and more content will be updated in the future to meet the needs of users. To meet the decoration scenes, and where do you want to live , a classroom, a meadow, or outer space? If you want to upload your background, it also provides support.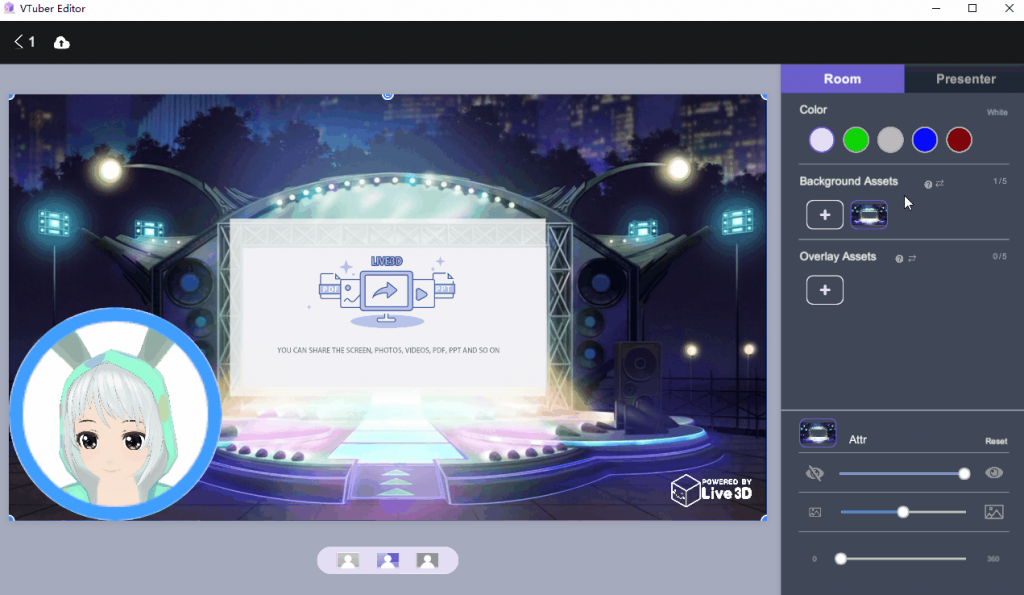 Operating

VTuber Maker has only one editing area on the right side, and the function is clear, the operation is simple, and each command has timely feedback .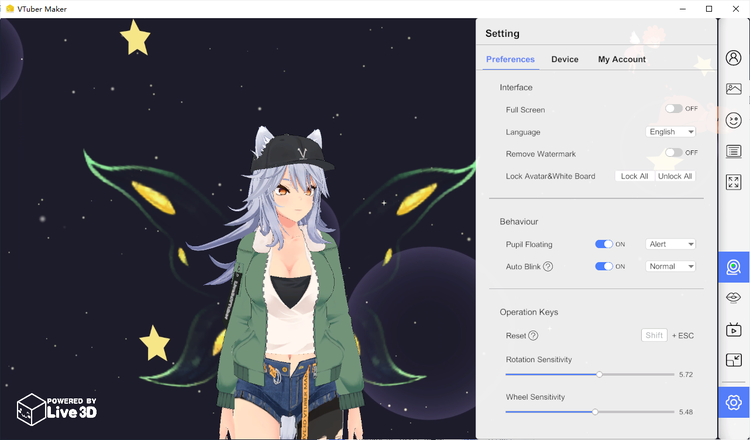 Some people may say, I am a computer green hand, don't know how to operate . Don't worry, it's a question that the Live 3D team has considered, with their Discord discussion group, 24 hours a day, the technical staff stands by, virtual anchors from around the world are sharing keys in the discord group. Get started with your virtual Live stream from VTuber Maker & Editor quickly. If users encounter difficulties, VTuber Maker group is happy to help every vtuber!
Please contact us: Email: service@live3d.io
Discord:https://discord.gg/CaxThpY
Twitter: https://twitter.com/VTuber_Maker
QQ Group: 414669952 Website: https://live3d.io/vtuber_maker