3D Virtual avatar and Facial Animation Software
What is 3D Virtual Avatar
3D avatar is a virtual digital model character, which can be understood as you on another network. You can create it to broadcast live on the Internet, interact with your relatives and friends online, have meetings with colleagues, or give you Fans and audiences teach online and so on. Having a 3D avatar allows you to participate in the exciting virtual world, and can give you endless happiness from it, let each of us start to have our own 3D avatar.
With the rapid expansion of the game market, it has also accelerated the development of 3D modeling technology, so that we can have a more personalized virtual 3D avatar, even close to real people or things, so that they have the same behavior as humans.
What Can We Do with 3D Virtual Avatar?
When you have a 3D virtual avatar, what do you use it for? The purpose of most people is nothing more than the following:
1.Just for Fun
For many young people, they are full of curiosity about new things. A cute and weird 3d virtual avatar can bring them a lot of joy, and they will share happiness with their relatives and friends. Especially the kind of 3D virtual avatars that are close to real people, they can lead them to immerse themselves in the virtual game world.
2.For Streaming
I believe everyone knows VTuber (the full name is Virtual Youtuber), which is a digital line entertainment method that uses 3d virtual avatar to perform, controlled by real people behind it, and finally shown to fans through the OBS streaming platform. To become a successful VTuber, you first need to have your own 3D virtual avatar.
Of course, there are also live speeches, chatting and interacting with fans, which are also very interesting applications.
3.For education
Since the 3d virtual avatar can be easily used by teachers, coaches, and lecturers, the education field can use the 3d virtual avatar. By using facial animation software, you can easily create fascinating tutorials and commentary videos, as well as wonderful video presentations. By using cartoon characters as video commentators, you can easily explain complex topics and processes to the audience. Especially in the last two years of the coronavirus pandemic, many teachers are forced to teach at home, and using a 3d virtual avatar will make the course very interesting.
What is Facial Animation Software
Facial animation software is an application that captures facial expressions through a virtual camera to recreate them as computer graphics. Facial animation software uses the device's camera to detect the shape of the face, eyes and mouth, as well as the head swing distance, and express expressions and emotions on virtual digital characters. Of course, this 3D virtual character can be anything you want, such as a 3D character, a 3D animal, a fantasy character, and so on.
With the rapid development of computer technology, ultra-high computing frequency CPU and faster rendering GPU chips enter the market, and the innovation of facial animation software is also undergoing rapid development. Smarter animation software can capture facial animation better.
How to Make 3D Virtual Avatar Lively with Facial Animation Software
You may not understand why the 3D virtual avatar can perform some actions according to our ideas? All this will depend on Facial Animation Software, so how does it make our 3D virtual avatar more dynamic?
VTuber Maker is undoubtedly your best choice. It perfectly combines 3D virtual avatar and facial animation software. You don't need to consider more other issues, you can start directly in VTuber Maker. In the following content, I will introduce how I use VTuber Maker to make my virtual avatar more dynamic. I can tell my experience from the following aspects.
1.Free 3d Virtual Avatar
This software already provides a lot of free 3d virtual avatars. If you are still thinking about it, what if you don't have a 3d virtual avatar? What if you don't know how to make animation These are not problems, it can help you solve them.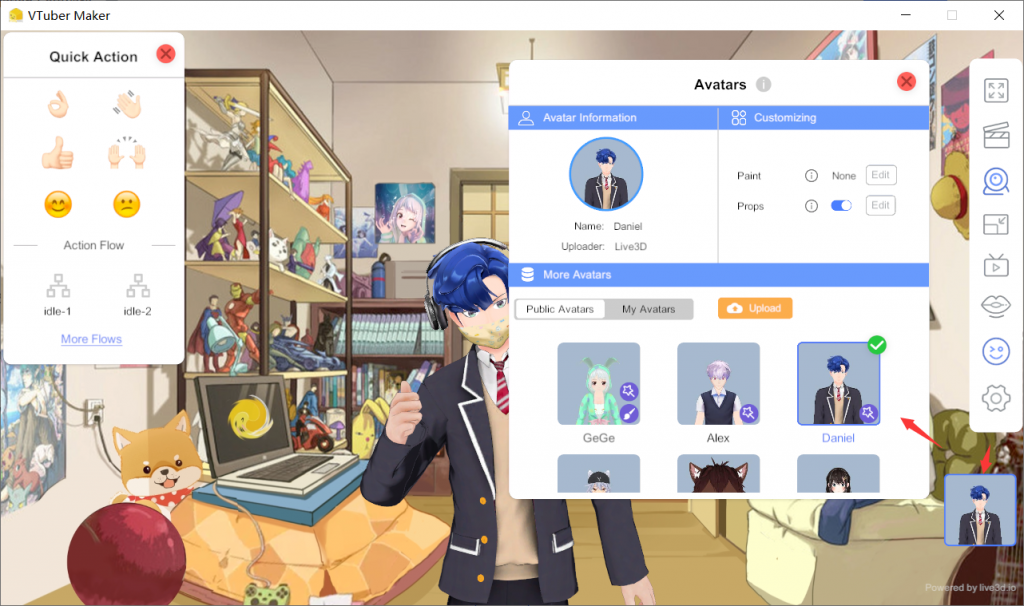 2.Facial capture
You don't need to make facial animations yourself, it will be a very time-consuming task. VTuber Maker only needs a simple camera to complete. If you are a laptop, then this is great. Just open the running software, and then turn on the face capture switch to capture your head expressions and movements in real time.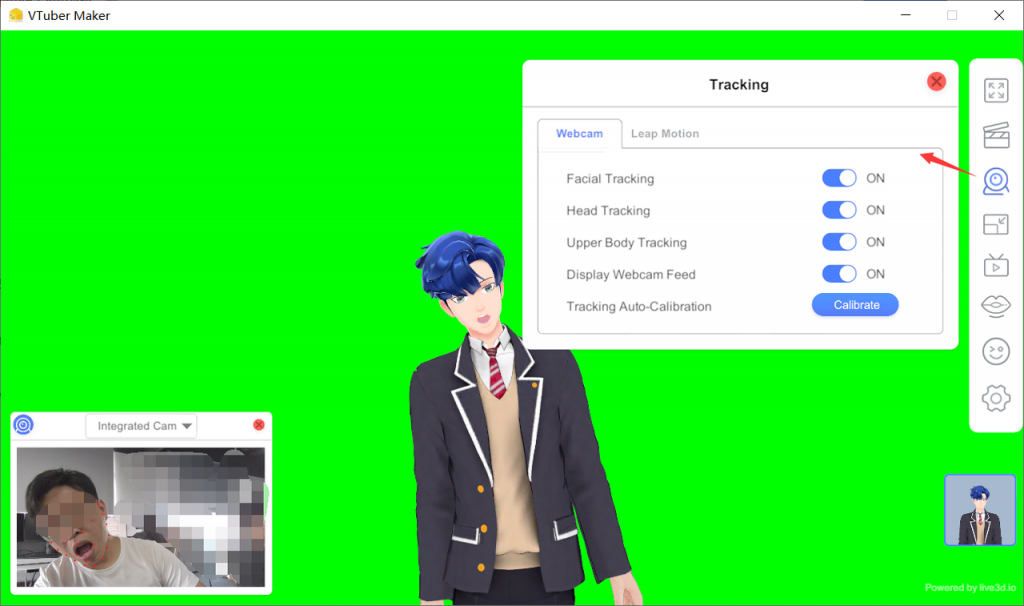 3.Custom animation
When you need to make a body animation for use at the beginning, but facial animation cannot meet your needs, then VTuber Editor can also help you solve the problem. It is a 3d virtual avatar resource editing tool, you can directly The inside is like a pile of wood, and the production of the initial preset animation is completed.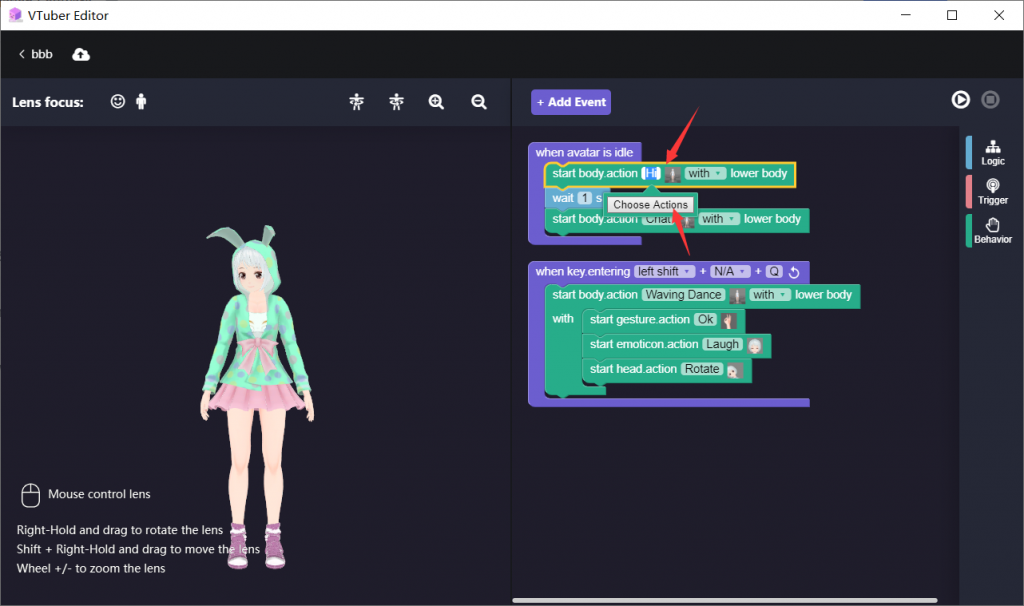 4.Personalized 3d virtual avatar
The world is becoming more and more beautiful because people love beauty. Of course, our 3d virtual avatar also needs decorations to make it more and more energetic. In VTuber Editor, you can give your 3d virtual avatar clothes Draw some nice icons on it and bring him some decorations. For example, I put on a mask for Dannial to prevent viruses and put on a headset to listen to songs.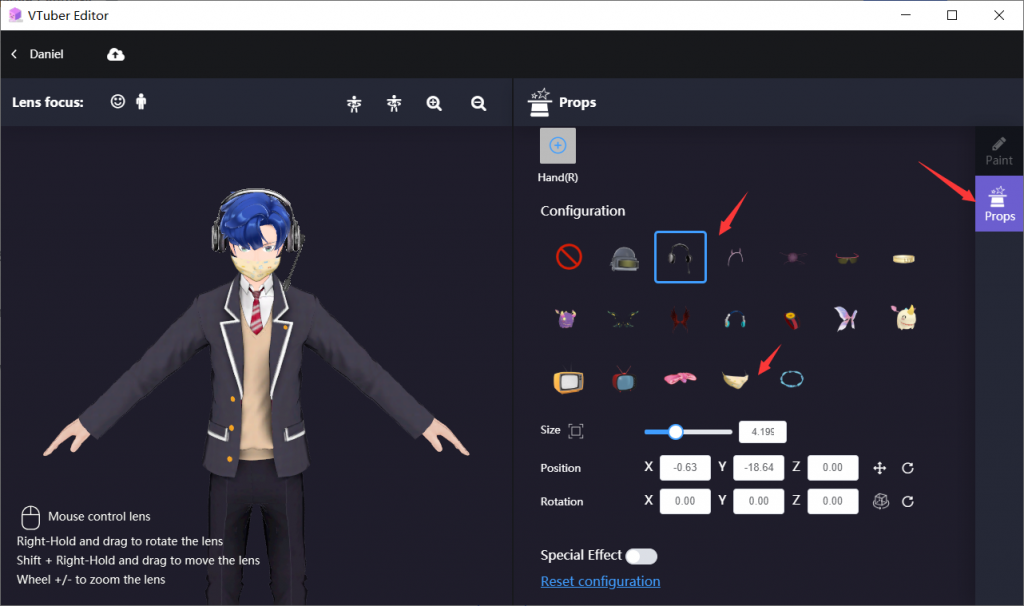 You may be wondering, I have done some decoration and dressing of the characters in VTuber Editor, how do I use them in VTuber Maker, this is definitely a very nice feature, they will keep synchronization by themselves, that is, you are in Modifications are made in Editor, and it will be directly synchronized to Maker. Isn't it great?
Final summary
After you understand the 3d virtual avatar and Facial Animation Software, it is a very simple thing to have a 3d virtual avatar of your own and make it more dynamic. Hope my sharing can help you.